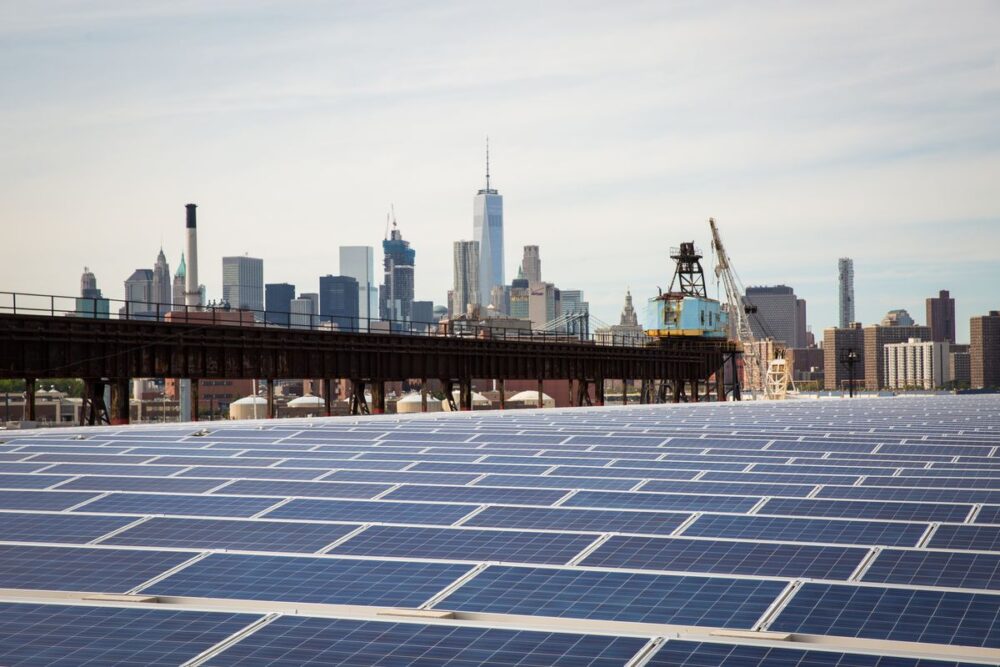 About the partners
About the
Community Power Team
Learn more about the team behind Community Power, a mix of a co-op, community non-profits, and utility and public partners.
A local, community-oriented team
The Community Power team is composed of local non-profits Solar One, WE ACT for Environmental Justice, the Brooklyn Movement Center, and Green City Force, along with a consumer-owned energy cooperative, Co-op Power, and Con Edison is sponsorship partner.
Solar One, a leading environmental education non-profit, was founded in 2004 with the belief that all New Yorkers can help solve our environmental challenges. Key programs include Green Design Lab (K-12 education), Green Workforce Training Program, and Here Comes Solar (HCS). HCS is our solar technical assistance program founded in 2014 to help make solar accessible to all New Yorkers regardless of income, building type, and ownership status.
Founded in 2004, Co-op Power is a consumer-owned sustainable energy cooperative. The organization operates a regional network of Community Energy Cooperatives to create a multi-class, multi-racial movement for a sustainable and just energy future. Co-op Power is owned by 750 individual and institutional members, and develops clean energy projects across Massachusetts and New York. The NYC Community Energy Co-op (NYC CEC) provides members access to feature energy initiatives the co-op pursues and gives members voting rights towards future projects.
Green City Force (GCF) connects the dots between youth unemployment and the transition to sustainable cities and communities, through service. They focus on public housing communities where youth unemployment and environmental needs are acute. GCF recruits young adults who live in public housing as AmeriCorps members for full-time, stipended service and training, and works with alumni to help them access and advance within career-path jobs.
WE ACT's mission is to build healthy communities by ensuring that people of color and/or low income residents participate meaningfully in the creation of sound and fair environmental health and protection policies and practices. WE ACT was started in 1988 when three fearless community leaders saw that environmental racism was rampant in their West Harlem neighborhood, and they demanded community-driven, political change.
Brooklyn Movement Center (BMC) is a Black-led, membership-based organization of primarily low-to-moderate income Central Brooklyn residents. BMC builds power and pursue self-determination in Bedford-Stuyvesant & Crown Heights by nurturing local leadership, waging campaigns and winning concrete improvements in people's lives. Through intersectional organizing, BMC centers a full range of issues and Black identity that define a whole community.
Accord Power is a MBE and has been developing residential, commercial, and industrial solar photovoltaic systems in NY and NJ since 2009. API, with its dedicated sales professionals and knowledgeable project managers, has been providing homeowners and businesses with electric savings for years while helping to reduce their carbon footprint. Their goal is to make the world a cleaner, more sustainable environment for generations to come.
Con Edison is a sponsoring partner of Community Power  with the goal of achieving three things for LMI customers:

Access to new technology, innovative solutions, and clean sources of generation like solar
Affordability to empower customers to manage their energy use and help customers control costs and reduce energy burden.
Impact by growing energy awareness and engagement

The New York City Housing Authority's mission is to increase opportunities for low- and moderate-income New Yorkers by providing safe, affordable housing and facilitating access to social and community services. More than 400,000 New Yorkers reside in NYCHA's 326 public housing developments across the City's five boroughs. Another 235,000 receive subsidized rental assistance in private homes through the NYCHA-administered Section 8 Leased Housing Program.As part of the NextGeneration NYCHA Sustainability Agenda, NYCHA committed to siting 25 MW of renewable energy capacity on its properties by 2025 through ACCESSolar, which stands for "ACcelerating Community Empowered Shared Solar".