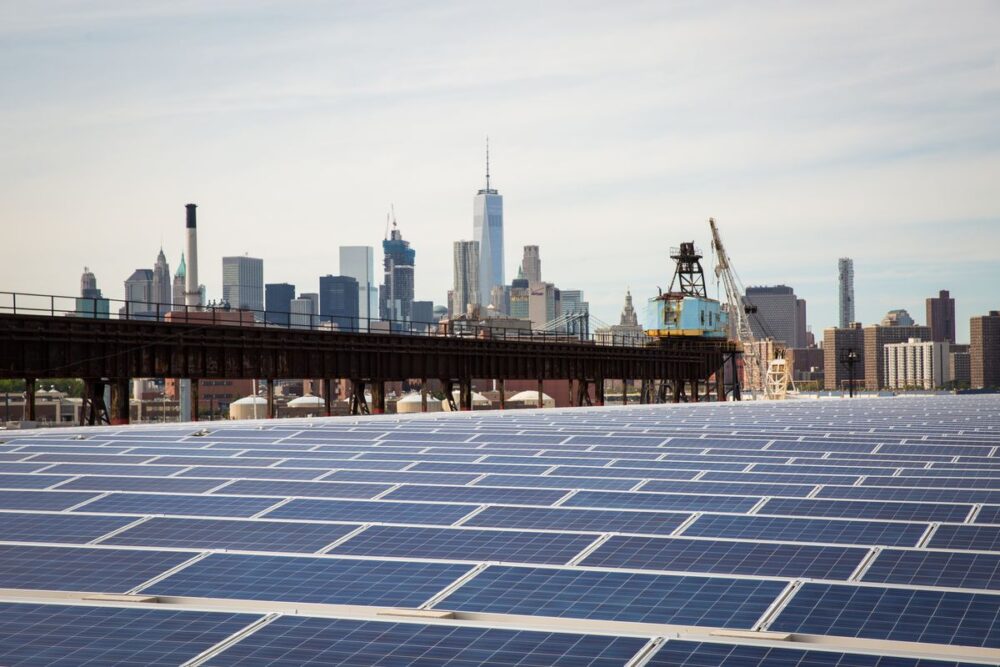 Project Details slider
Frequently asked questions
General FAQs
The project is full — please fill out the form on our home page to join our Standby List on our home page and we will contact you in the order your entry was received.
What is Community Power?
Community Power is a program where low-to-moderate income households in New York City save money on their electric bills with community solar. Participants will save on average $10 per month on your energy expenses and automatically become members of NYC CEC.
There are three NYCHA housing developments where the solar systems will reside, Carver housing development in Northern Manhattan and Glenwood and Kingsborough housing developments in Central Brooklyn. Community Power is only open to 350 eligible households in Northern Manhattan and Central Brooklyn.
The Community Power team is composed of local non-profits Solar One, WE ACT for Environmental Justice, the Brooklyn Movement Center, and Green City Force, along with a consumer-owned energy cooperative, Co-op Power, and Con Edison is a sponsoring partners.
Co-op Power will develop and finance the project, and will pass along management to its NYC-based regional co-op, the New York City Community Energy Cooperative. Solar One is providing technical assistance in the development of the project. Additionally, Community Power enlisted community-based non-profits WE ACT for Environmental Justice and the Brooklyn Movement Center to lead community outreach. Green City Force, another local non-profit is coordinating a workforce training program. Con Edison is sponsoring the project with the goals of providing access to new technology, innovative solutions, and clean sources of generation like solar, affordability the ability of LMI customers to manage or reduce their energy costs, and create a positive impacts in LMI communities through job creation, reduced GHG, etc.
What is community solar?
A form of energy production that uses the sun, and allows individual households to share a group of solar energy panels and receive a solar energy credit directly on their individual electric bills. Usually, community solar projects share one solar energy systems installed on a large roof, such as a warehouse. Community Power is unique in that the project is comprised of systems installed on three NYCHA campuses.
Historically, getting solar energy was only feasible for homeowners with adequate roofs with the ability to pay or finance the system. Homeowners with limiting spending capital or poor roof space, as well as renters were not able to access solar energy. Community solar allows anyone that pays a Con Edison bill to subscribe to a solar project in another location and receive credits on their Con Edison bill at no cost. Community solar is great because it breaks down the main barriers to benefiting from solar energy: ability to purchase, roof feasibility, and lack of home ownership.
Community solar projects are owned and administered by private companies or non-profits. In the case of Community Power, Co-op Power is the system owner, and the New York City Community Energy Co-op (Co-op Power's regional group) will operate the system.
The households that share the projects are usually referred to as "participants" See below for information on subscriptions.
Where are the systems located?
Community Power's solar capacity of 1.2 MW is spread throughout three NYCHA campuses: Carver in East Harlem, Kingsborough in Bed-Stuy, and Glenwood in Canarsie.
Who owns the project?
Along with Co-op Power, the project's investor will share ownership for the project's first 7-10 years, after which, Co-op Power will assume complete ownership of the project.
Ongoing project operations will be handled by NYC CEC, including customer billing, responding to customer inquiries, and troubleshooting system issues and repairs.
Although the systems are installed on NYCHA buildings, NYCHA does not have any ownership in the project; they are simply leasing their roof top space to Community Power. Community Power is paying NYCHA for their rooftop space; we expect our lease payments are invested in projects that improve resident's quality of life. Community Power will also train about thirty NYCHA residents in green construction and solar installation skills, hire some trainees to work on the solar project, and support the job search for other trainees.
Community Power enlisted community-based non-profits WE ACT for Environmental Justice and the Brooklyn Movement Center to find subscribers in their local communities. Green City Force, another local non-profit is coordinating a workforce training program.
Is there maintenance with the solar installation? Who handles that?
Solar panels require minor maintenance, but the owner of the solar project, Co-op Power, will have the ability to monitor the output of the panels remotely and will see if any maintenance is required. Subscribers will not responsible for any costs related to maintenance or repairs of the solar energy equipment.
Signing Up
Who can sign up?
• Participants must live in NYCHA or income-restricted affordable housing
• Must be directly-metered Con Edison customer
• Must set up auto payment of their monthly NYC CEC bill through ACH transaction
• Be current on their Con Edison bill
Is there an income limitation?
Yes, this project is limited to low-to-moderate income households in New York City. Community Power can easily verify income requirements for residents of income-restricted affordable housing. Other low-and-moderate income households may need to provide alternative proof of income eligibility.
Can homeowners, renters, and small businesses all sign up? Is there an allocated split for each type of subscriber?
No, participants in the Community Power project will be exclusively low-to-moderate income residents who pay their own Con Edison bill.
How many people can subscribe? Where is the cut off?
Community Power will enroll as many customers as needed to take up the solar energy system's capacity. We're estimating that the project can support 350-400 subscribers. Once the project fills up, we will have a waiting list for anyone else.
Is there any upfront cost?
No, there is no upfront cost to join the Community Power project.
What if I have an ESCO? Do I have to cancel my contract with them?
As long as you receive your ESCO charges on your Con Edison bill, you do not need to cancel your ESCO contract. In some cases, the ESCO sends a separate bill, and in this case you will need to cancel your ESCO contract if you want to be a subscriber to Community Power.
Can NYCHA residents subscribe?
NYCHA residents that pay a Con Edison energy bill are able to participate to Community Power.
Community Power Subscription Details
How does a community solar subscription work?
Each month, the solar panels will produce energy. Since you are participating in the program, part of the energy is yours. The energy then gets converted to dollars and appears on your Con Edison bill as a credit or "adjustment". You keep 20% of your adjustment and give 80% to the cooperative to pay for the solar panels and to run the cooperative. The 20% is a fixed amount – so you will always save money.
For example, in January, you earn a credit of $50. Your Con Edison bill drops by $50. Next, Community Power bills you for 80% of that credit ($40), and you keep the remaining 20% ($10). Your savings for the month are $10.
In June, you earn a credit of $100 because the sunnier weather allows the system to produce more energy. Your Con Edison bill drops by $100. Next, Community Power bills you for 80% of the credit ($80) and you keep the remaining 20% ($20). Your savings for the month are $20.
No matter what your credit for the month is, your payment to Community Power is 80% of the credit, and you keep 20%.
If for the unlikely occasion that no energy is produced, and no credits are generated, your Con Edison bill stays the same, and you owe nothing to Community Power.
Your participation includes membership into the New York City Community Energy Co-op. More information on the co-op can be found below.
What is the subscription term?
The current subscription term is 20 years, however, you may cancel your subscription with no cancellation fee as long as you provide Community Power 30 days' notice. Failure to provide 30 days' notice may result in the need to bill for any credits earned in the subsequent month.
What happens after the 20 year subscription term?
The roof lease with NYCHA will end, and the NYC Community Energy Co-op and NYCHA will determine whether or not to continue the project.
Is one subscription per household? What about a multi-family house?
Solar subscriptions are tied to a single Con Edison account. So, for example, if you live in a multi-family house with 3 electric bills you will have 3 subscriptions.
Memberships to the New York City Community Energy Co-op can either tied to an account or family unit. In the example above, a three-family home where all residents are members of the same family can choose to have one membership into the NYC CEC or three separate memberships. Our team can help you determine which option is best for your household.
Would the discount fluctuate based on the month? What would cause it to change?
No, the discount will remain 20%.
Why does Con Edison allow participants to lower their electric bills?
To incentivize the growth of solar across the state, utilities are mandated to compensate solar projects for energy that is produced and exported to the grid, per the Value of Distributed Energy Resources Order. Community solar allows a single project to split up Con Edison's compensation for solar among multiple households (subscribers). Con Edison will provide a monetary credit on a subscriber's bill for their share of electricity produced on a monthly basis.
How are the participants protected if something happens to the solar installation? What happens if repairs need to be made to the solar energy system?
Because solar energy systems require very little maintenance, we don't expect many issues with the operation of the systems. During construction, the installer will ensure that the solar energy systems will be built to withstand any weather events, such as high winds, and other standards as required by the Department of Building, FDNY, and other relevant authorities. The solar equipment also carries a manufacturer's warranty, so in the event of equipment failure, the installer will be able to replace the equipment. Repairs, replacements, and other issues with the system will not be charged to subscribers—you will still receive credits at a 20% discount.
In the unlikely event that the solar panels are damaged and cannot produce electricity temporarily, customers may not see a credit while the equipment is being repaired, and their Con Edison charges will not decrease (as was the case before signing up for community solar). Community Power will make all efforts to restore operations as quickly as possible.
How do participants pay for the solar subscription?
Participants will pay with ACH transfer (direct bank account transfer). As part of the enrollment process, customers will provide their bank account information through a secure site.
How many bills will I receive?
You will receive two bills. The first will be your regular Con Edison bill with the solar credits applied. Con Edison will not change the way they charge you for energy usage, but the credits will reduce your Con Edison charges.
The second is the Community Power solar subscription, equal to the solar credits at a 20% discount. In other words, you are billed for 80% of the Con Edison credit amount and keep the remaining 20%.
Are there other solar projects for residents to subscribe to at the moment?
If someone who is not low-to-moderate income wants to participate in community solar, Solar One can assist with finding a suitable project. They can visit Solar One's community solar page, fill out the form, and a Solar One employee will follow up.
NYC Community Energy Co-op
What does the co-operative structure look like?
The NYC Community Energy Co-op (CEC) is one of Co-op Power's regional energy cooperatives. Co-op Power, the developer and financier for Community Project, is a decentralized network of energy co-ops in the Northeast, where members come together to create a more sustainable and just energy future by pooling capital, purchasing power, and voting power to own and control energy resources. Other Co-op Power energy co-ops are present in Massachusetts, Vermont, and New Hampshire.
The NYC Community Energy Co-op (CEC) is made up of households, small businesses and organizations that pay energy bills in NYC—most are subscribers in community solar projects operated by the co-op and their community partners. For now, these projects include Community Power and Sunset Park Solar in Brooklyn. Membership in the cooperative grants a vote in future project decisions and NYC CEC initiatives funded by the cooperative.
The members control and direct the activities of the Community Energy Cooperative depending on the projects, programs, products and services needed in the community.
How does it work?
The NYC Community Energy Co-op is a place where community members meet, discuss and plan projects that will produce their products and services. Community members learn how to create local jobs and worker-owned businesses that keep dollars local instead of going to developers. Members will hold regular meetings to discuss community needs, discuss products and services needed, and vote on which projects to pursue using membership contributions.
What rights do members have?
Vote at membership meetings
Serve on member work groups
Transfer membership to a member of their immediate family
Participate in member meetings and activities
Elect representation on the CEC board and the regional Co-op Power Board
Participation in meetings and votes is highly encouraged but not required.